Welcome!
My name is Allan Packer, and I write epic fantasy.
This website explores my books (available in ebook, print, and
audiobook
format),
release plans
,
giveaways
, and other
related information
. It also offers background on
me
.
In particular, I'd like to introduce you to my fantasy series,
The Stone Cycle
.
---

The Stone of Knowing
introduces a new saga—tracing an ordinary person's discovery of a small object of unusual power and the growing impact on the surrounding kingdoms.
If you enjoy epic fantasy with gripping action, relatable characters, and clean romance in a sweeping coming of age saga, then try the novels of
The Stone Cycle
now!
For series details, click here.
Novels







Prequels




Box Sets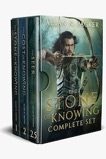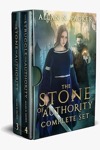 ---
How to Order
To purchase a book, click on a cover above to see links to a range of online stores selling that title

Links include ebooks, paperbacks, and audiobooks
Links are not exhaustive—it's worth checking your favorite online store if you can't see it on the list

Visit your library

Listen to audiobooks for free
Borrow ebooks (from July 2022)
eBook Availability
Follow the links below to find available eBooks at a selection of online stores and libraries.
NOTE:
this list is not complete - check your favorite online store directly if it isn't listed here.
---
Ebook Promotional Pricing
The following promotions are currently available for ebooks in
The Stone Cycle
series.
Kobo March 30% off sale

This sale will take place March 16th - 27th (inclusive) and will be running in Canada, the US, the UK, Australia and New Zealand.
Applies to The Cost of Knowing, The Stone of Authority, The Struggle for Authority, and The Stone of Vitality

Barnes & Noble BOGO 30% (valid until the end of June 2023)

Buy two ebooks and receive a 30% discount on the lower priced item. No coupon required. The discount will be applied at checkout.
Applies to all six novels in the series, as well as the novelette The Seer: A Prequel to the Stone of Knowing

Google Books Series Bundle Discount

Buy multiple ebooks and save. The discount will be applied at checkout.
2 ebooks: 5% discount; 3 ebooks: 10% discount; 5 ebooks: 15% discount
Applies to all six novels in the series
---