Audiobook Releases
New release!
Dec 31, 2021.
The Struggle for Authority
is finally released! It's available now at a range of online stores and currently on promotion at
Chirp
at a greatly reduced price, applicable until Feb 7, 2022.
---
Audiobook versions of a number of
The Stone Cycle
novels are now available. Ratings and reviews of the audiobooks are now available on online sellers, most notably
Chirp
. Average ratings typically exceed 4 out of 5 stars.
Here are some review comments:
"This is a very enjoyable book to listen to." (The Stone of Knowing, Book 1)
"This was one of the best stories I have ever heard!" (The Stone of Knowing, Book 1)
"I thoroughly enjoyed this tale. Packer writes vividly, with realistic, likable characters. This is a fun story I'd highly recommend." (The Stone of Knowing, Book 1)
"This listen maintained the excellence of the first book…This book is fast-paced and quite dramatic." (The Cost of Knowing, Book 2)
"Well written, well read & great character development!" (The Stone of Authority, Book 3)
Another listener says, "The narrator speaks with great clarity, energy and emotion."
Check the audiobooks out for yourself!
---
Consistently Lowest Prices at Authors Direct!
Authors Direct
gives independent authors control over the sale and marketing of their audiobooks, while also offering the highest available royalty rate. As a result:
You can expect to find the lowest price for all my audiobooks there*

Apart from short-term promotions on other sites

Even with the low prices, I earn slightly higher royalties for each sale
It's a true win/win
*Please let me know if you find a lower price elsewhere that's not a short-term promotion.
Here are the links for each book at Authors Direct:
Check it out now!
---
Release History
Available from libraries and online audiobook stores:
The Seer: A Prequel to The Stone of Knowing — February 5, 2021
The Stone of Knowing — March 4, 2021
The Cost of Knowing — March 11, 2021
The Rending: A Prequel to The Cost of Knowing — April 8, 2021
The Stone of Knowing Complete Set — June 3, 2021
The Stone of Authority — August 9, 2021
The Struggle for Authority - December 31, 2021
Coming in December 2022:
---

Availability
You can borrow audiobook versions from libraries and listen to them for free!
Libraries have access to
The Stone Cycle
audiobooks if they use any of:
Bibliotheca
Odilo
Overdrive
hoopla
Audiobooks are also available for sale from a wide range of online audiobook stores, including Authors Direct, Amazon, Audible, Apple, Google Play, Chirp, NOOK, and others.
Follow the links below to find available audiobooks at each store:
---
The Narrator
The stories are narrated by Greg John.
Here is a brief bio for Greg:
Greg John, now retired, has spent his working life in Australia teaching children aged 5 to 18, mainly in the Performing Arts. He has been involved in school and amateur drama and music theatre as principal performer, musical director, director, and producer. Professionally, he has performed in many mainstage operas and major festival productions, including as Narrator in the concert version of Guys and Dolls.
Allan N. Packer's
The Stone Cycle
is his first serious foray into audiobook narration.
---
An Audio Sample
Click on the following image for a short sample from the audiobook version of
The Seer
.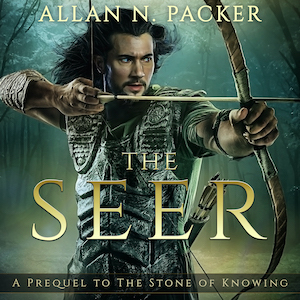 ---